The Champion Fortune Corporation has been serving the screw machine industry for over 37 years, providing rebuilding, repairing and manufacturing services. Champion Fortune is the ONLY rebuilding facility that rebuilds the machine and actually builds the guarding and conveyors under one roof. Overhauling and rebuilding Acme Gridley screw machines is Champion Fortune's specialty.
Rebuilt screw machines from Champion Fortune are unconditionally guaranteed to perform as new for two full years under normal use and service. You can save as much as 50 to 60 percent with Champion as compared with new equipment purchases. We'll add new life to your existing equipment - make it last longer, and often increase your screw's machine's capabilities by adding new features wherever possible.
Champion also performs component work on other types of screw machines. Champion's full spare parts inventory of Acme components allows us to respond faster.
We do not mass produce parts. We do have a machine shop but is is geared to the repair of the Acmes and the sale of replacement parts.

"We are Committed to Customer Satisfaction and
More than Certain to Surpass your Needs
on Quality, Delivery and Services."
Rapid Order Turn Around
We can ship out your parts to repair your screw machine with a rapid turnaround with just in time delivery. Our staff strives to be responsive and quick. Same day shipping is what we strive for on most replacement parts and we are very flexbile on the turn around on the repairs of carriers, spindles, etc. to meet our customers' needs whenever possible.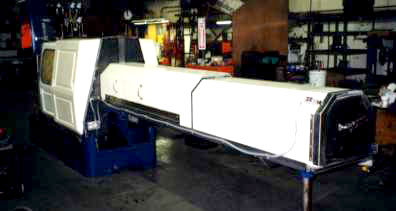 Give us a call - 989.422.6130.
We use precision equipment to verify each order and are committed to delivering your precision machined parts according to your precise specifications. Our aim is to ensure the quality of the part reflects your needs.
We service many industries from heavy equipment to the aerospace industry.
Our goals are to establish a lasting, activley involved relationship with your organization by fully meeting all of your parts, service, screw machine or repair needs.

QUALITY AND SERVICE ARE A TRADITION AT CHAMPION FORTUNE CORPORATION!
SPINDLE REBUILDING
•

CARRIER HOUSING REPAIR

•

STEM GRINDING
TOOLSIDE REBUSHING

•

TAPERED ROLLER CONVERSION